Governor Murphy Signs Budget Allocating $1MM in Funding to the New Jersey Tutoring Corps!
Statement from New Jersey Tutoring Corps Regarding Governor Murphy's Budget and Investment in Tutoring
Today, we are excited to share that Governor Murphy signed the state's FY23 budget into law which included a $1 million investment to the New Jersey Tutoring Corps. We are incredibly grateful to Senate Education Committee Chair Vin Gopal who championed this effort.
The New Jersey Tutoring Corps (NJTC) is a group of committed, visionary educators devoted to growing young minds and strengthening teaching and learning through high-dosage tutoring for our state's under-resourced scholars. NJTC provides PK-8 tutoring in Literacy and Math – embedded during the school day or in some cases, afterschool plus a summer program in partnership with Y Alliance of New Jersey and the Boys and Girls Clubs of New Jersey. NJTC has 400+ education professionals ranging from pre-service teacher to paraprofessionals, to certified teachers, to retired educators to lead local logistics, coaching and tutoring
A Statement from Katherine Bassett, the Executive Director of the NJTC:
"The NJTC is proud and honored to receive this investment from the state. As the only statewide tutoring program currently equipped to partner with districts and community partners across all counties, we will continue to create partnerships with districts, institutions of higher education, and other non-profit organizations to advance high- dosage tutoring statewide. Our impact has been significant to date, but we still have much work to do."

Katherine Bassett, Executive Director
NJTC staff are trained and equipped in social-emotional skills, social justice and equity, curriculum and instructional best practices. Below are findings from our school-year program, showing scholar growth in K-2 Literacy and K-5 Math. Survey results below from our grade 3-5 scholars shows that our impact goes further than academics, we strengthen relationships, with content and people, too. It is our staff – Tutors, Site Coordinators, Instructional Coaches, as well as our internal staff, who make this program a success for scholars.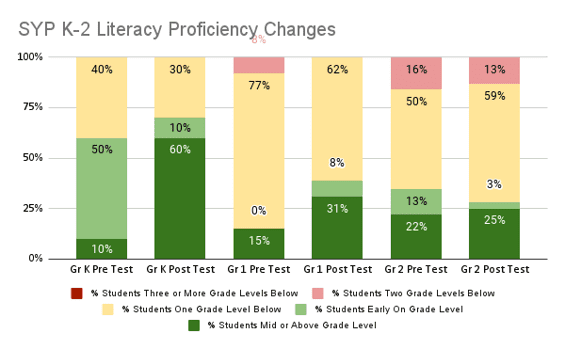 These results show that our K-2 Literacy scholars grew dramatically in their literacy skills, advancing, in many cases, one or more grade level during the after-school program.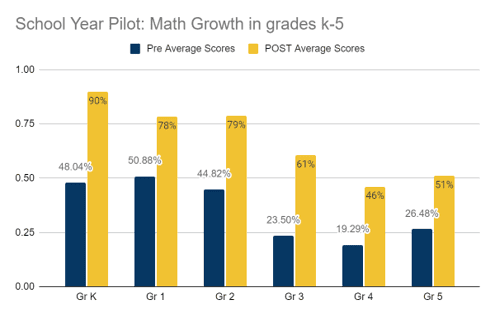 Across all six grade levels, our scholars showed statistically significant growth in Math skills during our after-school program.
99% of students in grade 3-5 said they feel stronger in math now as compared to before tutoring;
99% said they enjoyed working with their tutor;
94% shared they will participate more in math class after tutoring.
---
Once again, we are incredibly grateful to our partners, our staff, Governor Murphy and the Senate Education Committee Chair, Vin Gopal, for the continued privilege to work with New Jersey students. We are actively meeting with districts to plan for the upcoming school year and see what powerful partnerships and connected funding can do to close learning gaps for students across the state.
Thank you to our partners, the Boys and Girls Clubs of NJ and the Y Alliance of NJ
With gratitude to our funders:
The Community Foundation of New Jersey
The David Tepper Family Foundation
The Henry and Marilyn Taub Foundation
The New Jersey Pandemic Relief Fund
The Overdeck Family Foundation
The Prudential Foundation
With Appreciation,
Katherine Bassett and Ashley Bencan on behalf of the NJ Tutoring Corps